As a parent, one of the most important things you want to do is to capture the milestones of your child's first year. These moments are fleeting and will be cherished forever. While taking photos with your smartphone or personal camera is a great way to document these moments, sometimes, it's best to hire a professional photographer to capture those precious moments.
In this blog post, we will discuss how to plan to past your newborn photos and document your child's first year milestones.
Research and Hire a Professional Photographer
The first step in planning to photograph your child's first year milestones with a professional photographer is to research and hire one. Start by asking for referrals from friends and family who have had experience working with professional photographers for their children's milestone photography. You can also check out online directories and social media platforms like Instagram to find local photographers in your area. Many times, photographers, including myself, will offer milestone collections. The benefit of going with a milestone collection at my studio is your photos will have a consistent look throughout the year and you will receive a discount and added perks for booking a yearlong package with the studio.
Make sure when you researching potential photographers, take a look at their portfolios to get an idea of their style and quality of work. You can also read reviews and testimonials from past clients to ensure that the photographer is reliable and professional.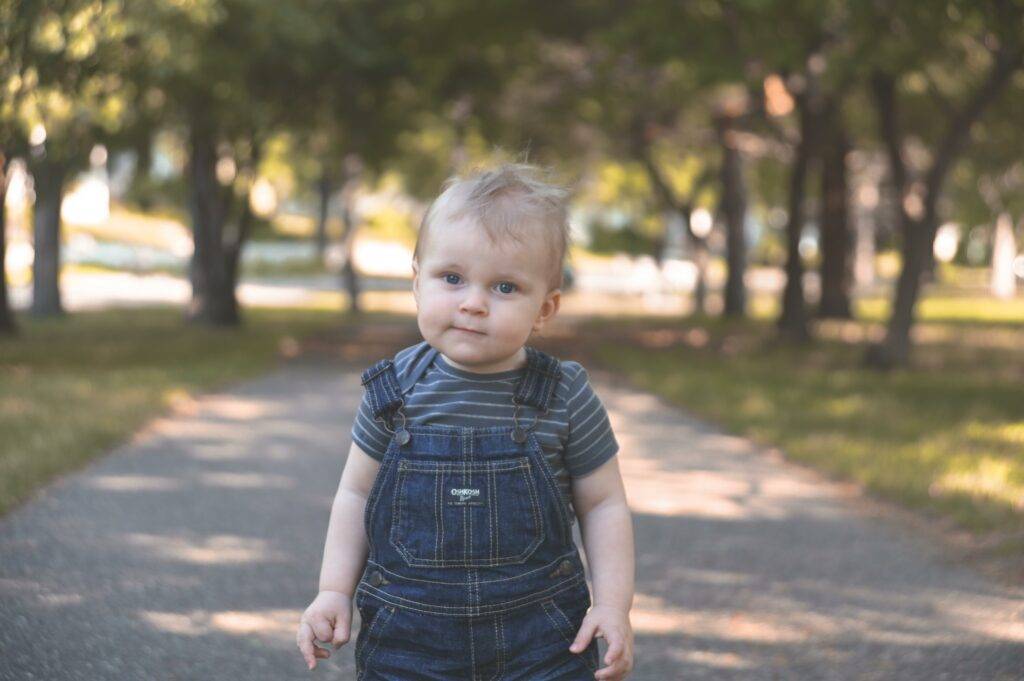 Schedule Sessions in Advance
Once you have found a professional photographer that you like, it's important to schedule your sessions in advance. Plan to schedule sessions at key milestones throughout your child's first year, such as at 3 months, 6 months, 9 months, and 12 months.   Scheduling sessions in advance ensures that you have plenty of time to prepare and make arrangements for the photoshoots. It also guarantees that you secure a spot with the photographer, as many professional photographers book up quickly.
Many of my clients, when first starting their research, like to include maternity and newborn in the milestone package.  I have just the package – you can take a peek at it here: 1 year collection.
Discuss Your Vision and Expectations
Before your first session, it's important to discuss your vision and expectations with your photographer. This will ensure that the photographer understands your style preferences and can capture the moments that are important to you.
Be sure to communicate any specific ideas or themes that you want to incorporate into the photoshoots, such as props or specific poses. This will help the photographer prepare and plan accordingly for each session.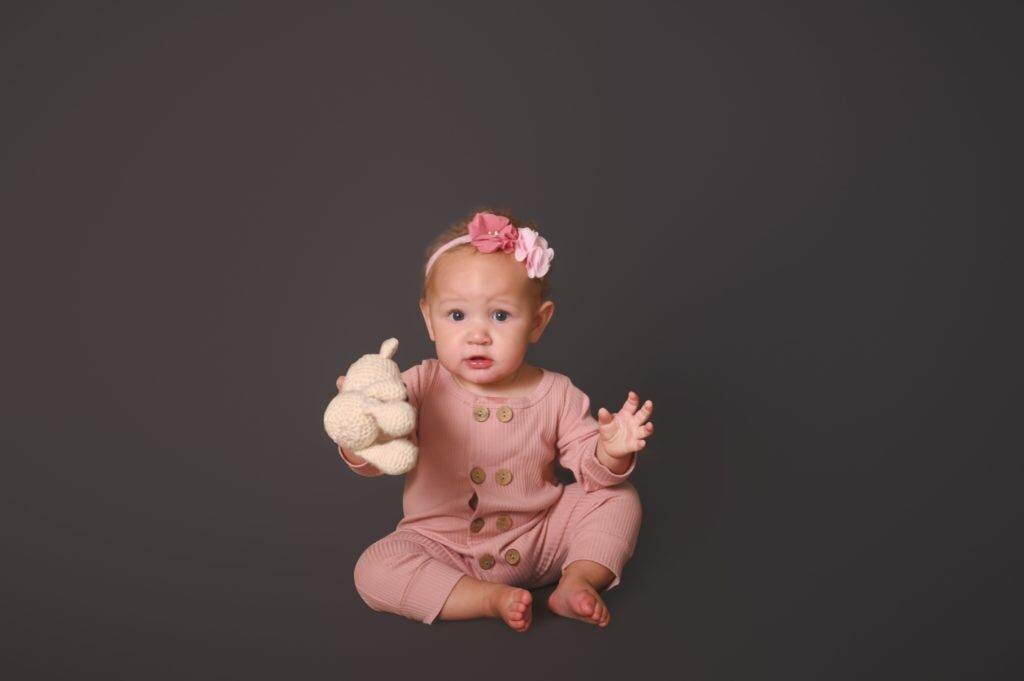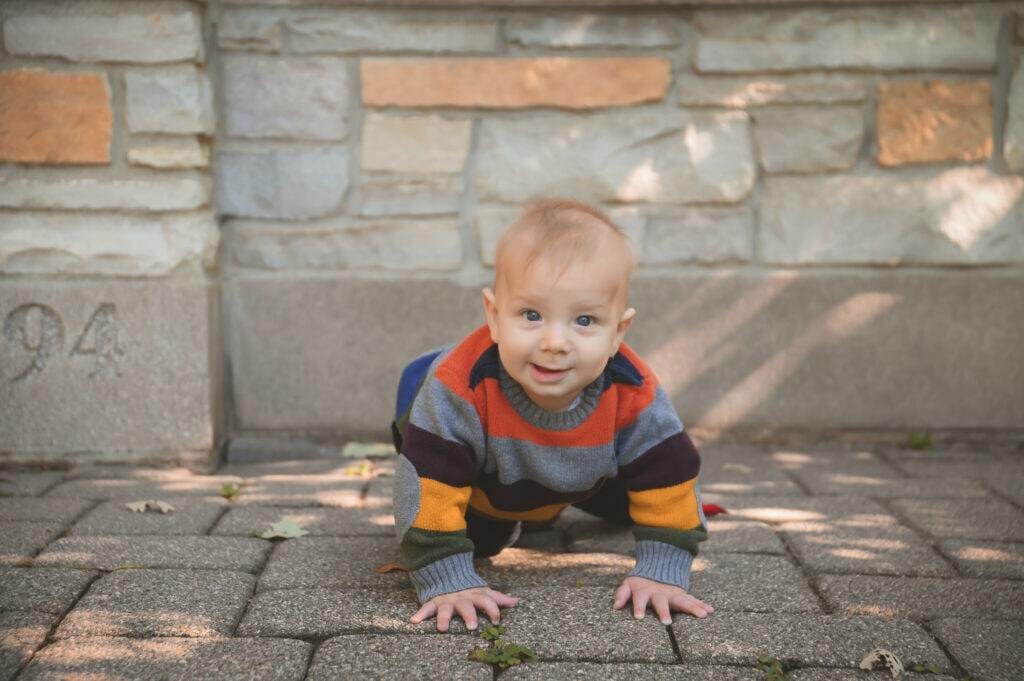 Prepare for the Photoshoots
Preparing for each photoshoot is crucial in ensuring that everything goes smoothly and that you capture the best possible photographs.
Here are a few things to consider when preparing for each session:
By planning ahead and preparing properly for each session, you will be able to capture amazing photographs of your child's first year milestones that you can cherish forever!
Dress your child in comfortable and cute clothing. Avoid clothing with large logos or busy patterns that can distract from your child's natural beauty. If you book a milestone collection at my studio, I have the wardrobe for you but many of my clients like to bring in wardrobe as well. 
Bring along any props or accessories that you want to include in the photoshoot, such as a favorite toy or a special blanket.
Make sure your child is well-rested and fed before the photo shoot to ensure that they are happy and cooperative during the session.
Consider the location and time of day for the photoshoot. Outdoor photoshoots during golden hour, for example, can provide beautiful natural lighting for your photos. 
When you schedule a cake smash, make sure to give plenty of time to find a place for a cake.  At my studio, I ask clients to bring cakes so that any food-related allergies can be avoided as parents know.  
Have snacks and drinks on hand for yourself and your child in case they get hungry or thirsty during the session.
Choose a location. Will you be taking photos in the studio or outdoors? Discuss with your photographer where you would like to have the photos taken.  A lot of times, I like to mix it up and provide both in studio and outdoor locations over the year to give a variety on locations as well as lighting. 
Be Present and Enjoy the Moment
During each photoshoot, it's important to be present and enjoy the moment with your child. Don't be afraid to interact and play with your child, as this can lead to candid and natural shots that capture their personality and character.
Remember that these photoshoots are not just about capturing the perfect photo but also about creating memories and bonding with your child. So take a deep breath, relax, and enjoy the moment with your little one.
Select and Print Your Favorite Photographs
After each photoshoot, your photographer will provide you with a gallery of images to choose from. Take your time to review each image and select your favorites. Consider printing your favorite photographs to display in your home or create a photo album to keep as a family keepsake.
As a parent, it feels incredibly rewarding to take pictures of your little one's milestones in their first year. While DIY photos are always fun, you can rarely beat the expertise and quality that comes with professionally taken photographs. A professional photographer will capture those special moments while they last and allow you to store them as beautiful memories forever. After all, there is nothing more precious than capturing that first year full of precious milestones!