Spring is busy time of the year for family photo sessions. The weather is mild, and we have some beautiful locations we can use in and around Minnesota. The snow is finally melting, the sun is beginning to warm the ground and the greenery is beautiful in springtime. All of this makes for the most amazing backdrops for your family portraits. That being said, I also offer spring sessions in my studio. I can cater for families of any size and I have a variety of plain and photographic backdrops to choose from. However, one issue that always come up around spring sessions, whether in the studio or outdoors, is how you should style your family – what should you wear?
Choosing the right outfit for your spring photoshoot can be a challenge.
Here are some tips to help you select the perfect outfit.
Consider the location: The location of your photoshoot will play a big role in determining what you should wear. If you choose a studio session, you'll make different clothing choices than if we are shooting on location. If we're outside, layer up, spring can still be chilly, but avoid bulky items like puffy coats, which make it difficult to define your shapes.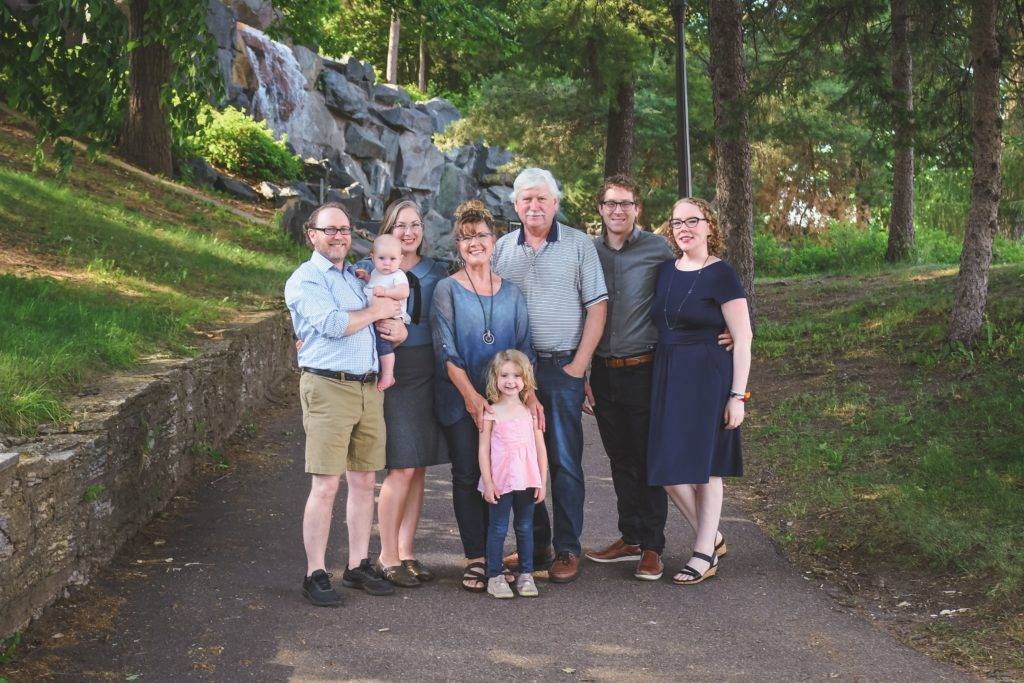 2. Think about the colors: Spring is an opportunity to include bright, cheerful colors in your clothing. This doesn't necessarily mean choosing something bold – bright pastels work equally as well at this time of year.  Make sure to choose complementary colors when selecting clothes for your family's photoshoot.  You can choose colors that will complement each other. Avoid wearing similar colored clothing as this can look a bit "blah" in photos. Instead, opt for items in a range of hues and tones to add texture and dimension to the shots.
3. Be careful with patterns: Patterns are a great way to add some interest to your photos but avoid really bold patterns that will distract from your images.  If you do choose to include some pattern, make sure it's one or two pieces across family members that coordinate.  Clashing patterns will work against you!
4. Accessorize: Accessorizing is a great way to add some personality to your photos. Consider wearing a statement necklace, a wide-brimmed hat, or a colorful scarf. 
Have fun with it: Don't be afraid to incorporate some of the family's hobbies and interests into their outfits. This could be anything from wearing a favorite sports team shirt or a shirt with an inside joke on it. The more creative, the better!
These tips should help you choose the perfect outfit for your spring photo session. Remember, as long as everyone is looking polished and put-together, you can't go wrong!
5. Co-ordinate, don't 'twin': It can be a fine balance to make sure your family all co-ordinate without dressing everybody exactly the same.  You also want each family member to be able to show a little of their own personality.  The key to a coordinating wardrobe is to choose one or two shades and base your whole palette around those.  For example, you might choose navy and cream but let each family member wear their own style of clothes within that palette, adding little splashes of a brighter colour or a pastel to suit them.  
6. Comfort is key when it comes to photoshoots. You'll want to choose an outfit that you can all move and pose in easily. Avoid anything too tight or restrictive. It's important that your family is comfortable during the shoot, so make sure you pick clothes that are easy to move in. If you're doing a location session, wear shoes that are comfortable for walking around in for extended periods of time.
7. Dress for the weather: Make sure you've dressed appropriately for the weather on the day of your photoshoot. If it's warm, opt for lightweight fabrics. If it's cooler, consider layering with a cardigan or jacket.
8. Don't forget footwear: Your footwear is just as important as your clothing when it comes to outdoor photoshoots. Consider wearing shoes that complement your outfit and that you can walk and pose in comfortably.
As you can see, there are many ways to dress for a spring session that will have you looking and feeling your best! From light layers and bright colors to comfortable shoes and accessories, it's all about planning right. With these tips in mind, you'll be ready to take on the session with style and confidence!