Newborn photography sessions certainly require a lot of attention, skill, and patience. Join me as I dive into the newborn experience at my studio and explore how I capture stunning shots for parents to remember this special time in their journey. From discussing why I photograph certain poses when I do to highlighting the other activities that occur during a newborn photography session – let's dive deeper into what goes on at my newborn photography studio.
Introduction to Newborn Photography & My Studio
Firstly, let me introduce myself, my name is Giliane and I have been a newborn photographer for over 10 years and a professional photographer for nearly 20 years. I'm going to take you on a walk-through of my newborn photography studio and show you how I capture those first precious moments of life. My studio is designed specifically for newborn photography. It's warm and cozy, with plenty of soft blankets and props to keep the baby comfortable. I use a variety of posing techniques to capture different aspects of a baby's personality and features. I believe that every baby is unique and deserves to be captured in a way that shows off her beauty. My goal is to create beautiful, artistic images that parents will cherish for a lifetime.
Poses and Props: What I Capture & Why
Newborn photography is all about capturing the precious moments of a baby's life. And while every parent wants to remember those first few weeks and months forever, it can be hard to know where to start. That's why I help you plan along the way. Before your session at my studio, I send you a questionnaire to help me plan your session. It will ask things like what colors would you like to see, any special props, and any specific poses you would like to try and achieve during our time together. Weeks before your session, I study your answers and begin building a workflow with all your answers and when you arrive I have a plan already laid out so I can capture exactly what you are looking for. It is okay if you don't know the answers to these questions, I am here to help and guide you during the session as well.
When you arrive at the studio, we will start right away with a feeding and a changing. We want your baby to start the sleep cycle at the studio and a full belly will help keep baby nice and relaxed during the session. After you have fed the baby, I have your partner or helper bring the baby to me where I start with what I call the baby burrito pose, because the wrapped-up baby looks like a cute little burrito. This is a very important time for me with your baby. This is when the "communication" happens between me and the baby. She is telling me what she will do when I move her, and how she responds to stimuli and how she handles a stranger. This is a crucial time for me as a newborn photographer, as I can then gauge how the rest of the session will go.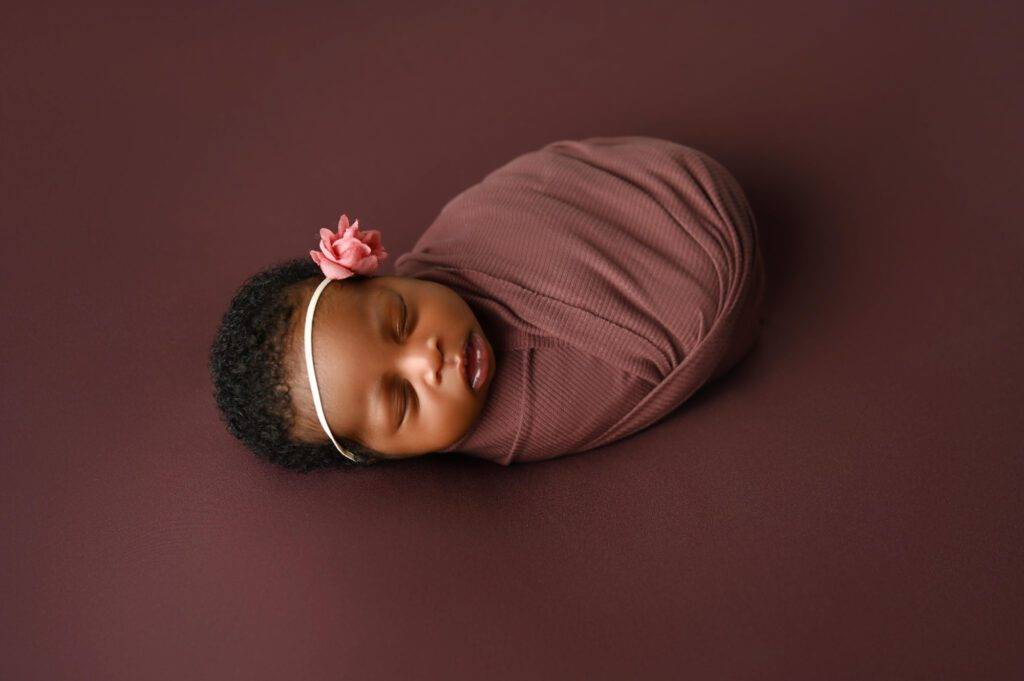 From there, I will begin the workflow, starting with the classic newborn pose. This is a timeless pose that captures the peacefulness and innocence of a newborn baby. I typically use a simple prop like a blanket or pillow to support the baby's head and ensure they are comfortable.
After photographing those poses, with the baby still wrapped, we move on to more wrapped poses. This time with baskets, buckets, moon props, or any other prop where I feel the assistance of a full wrap will still be beneficial. Why would I still need a full wrap you ask? Maybe the baby hasn't fully fallen asleep or is still wide awake and will be very fidgety if we took the wrap off.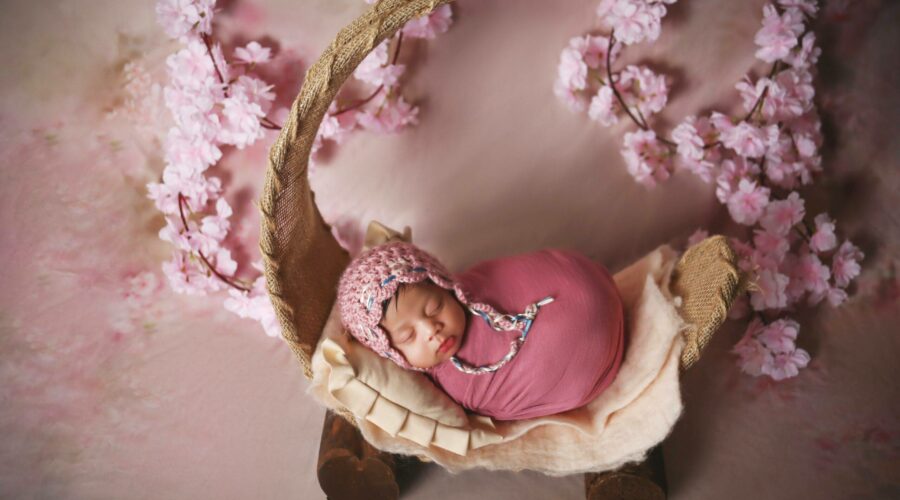 After I have determined baby is ok to remove some of the wrappings, I then move on to a half-wrap sleeping pose, showing either feet out or hands out. This could be done on a simple blanket or a top-down photograph of baby in a basket. This is one of my favorite poses for newborns because it captures their sweet features while they are sound asleep. Again, I like to use a simple prop like a blanket or pillow to support the baby's head and ensure they are comfortable.
Once baby is in a deep sleep, and is ok with me moving them around without reacting, I will take the wrap off completely and photograph full-body photos in cute outfits. Such poses I get at this time are: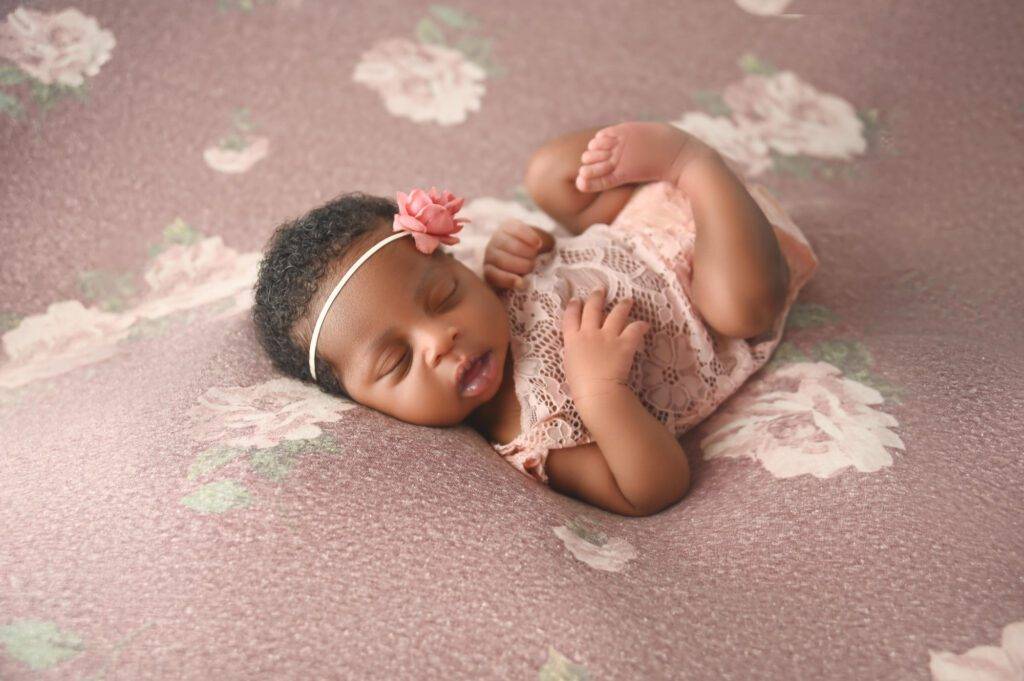 The Back Pose
Using my posing pillows, the baby is placed on his back and helped and curled like the way he was in the womb, with the legs and hands folded over his tummy. During this pose, I can photograph tiny fingers, toes, lips, button nose, and fine hairs.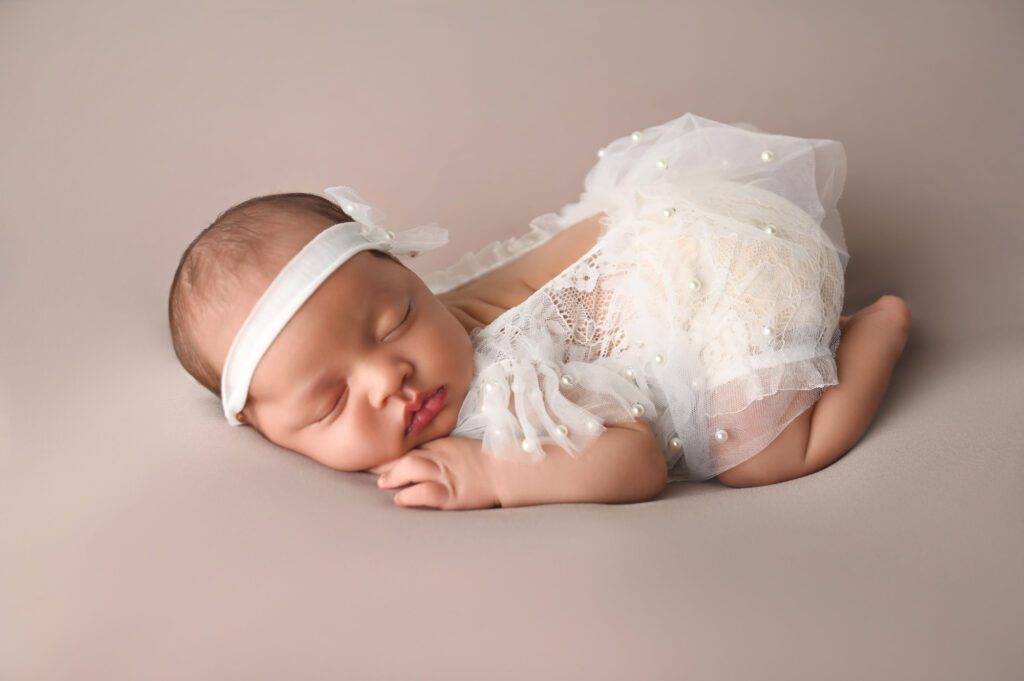 The Bum-up Pose
The baby is on his tummy with his elbow touching his knee. You can get this position on a bean bag or different crates or beds. We are trying to highlight the baby's round shape as well as the baby rolls.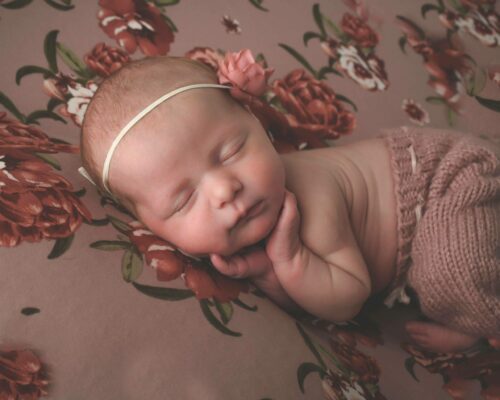 Side Pose (Laying & Curl)
Baby is laid on his side and his hands are placed under his face. This position will photograph the baby in his entire length, his face will be in focus, but his body will be in the foreground. As he sleeps in the most natural position, you will capture his sweet face.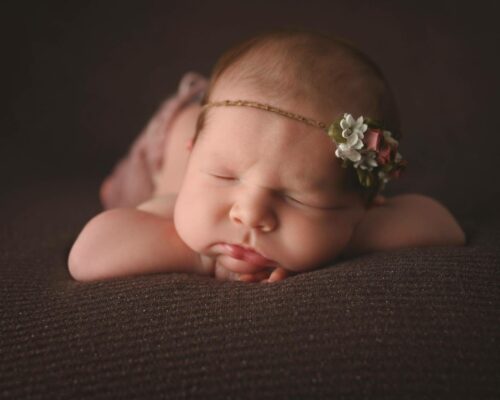 The Chin on Hand Poses
In this pose, the baby can be captured with his hands tucked underneath his chin. For a more natural look minimum accessories are recommended and if using any articles of clothing or headbands a dedicated guardian should stay close during the shoot to ensure safety. I use baskets, bowls, and boxes with this pose, and there is a strict safety protocol I follow, to ensure the baby is safe at all times.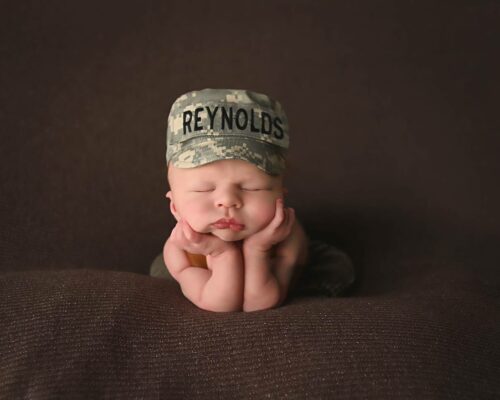 The Froggy Pose
This pose involves laying the baby on a bean bag in a froggy position. You will need two frames or composites to achieve this pose. The arms and hands under the chin must be held by an assistant, as well as the head so that the baby is safe.
During this time, I am also focusing on getting the close-up shot. This is a great way to show off your baby's sweet facial features such as his little nose, cute lips, eyelashes, little fingers, and toes. I typically use a macro lens for these photographs so that I can get close without disturbing the baby.
After I have photographed all the baby-only photos, I give the baby a little break with her parents. After all that posing, I would want a break, too. If the baby is starting to fuss a bit or I can tell he is already ready to be done with me, I typically suggest that we do family photos with the baby wrapped. This will make it easier to pose with the little one in case he is not as sleepy as he was before. If he is still nice and milk drunk, I suggest moving on with a cute outfit or it can be wrapped.
I start with parent and baby photos first, capturing many different poses, some while one parent is holding baby and then we switch it up, and then the other parent holds baby. I typically photograph newborn family photos from the waist up. Two reasons why I do this. Firstly, mom just gave birth and I know a lot of moms don't want a full-body photo of themselves right after having a baby. The other reason, a full-body photo can sometimes make it so the baby gets lost and hard to see in the photo. Family photos are about love and the emotions of welcoming a newborn baby, and we tend to see emotions easier in close-up, intimate photographs.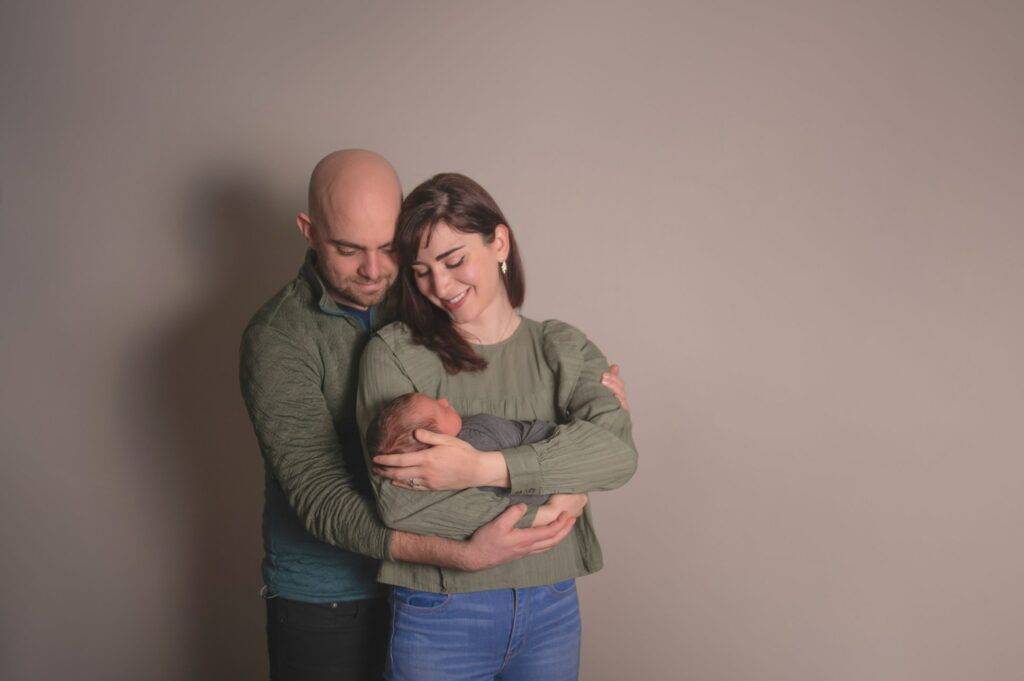 Editing and Delivery Process of Photos
Once the shoot is complete, I will edit the photos and the editing time takes 2 weeks. Depending on which collection you have chosen, I will have you schedule a time for you to come back to the studio for you to view your photos in my state-of-the-art viewing room. This is also the time when you can touch, flip through and decide on heirloom artwork so that you can display your photographs in your home.
Safety First – How I Ensure Safety During a Session
When it comes to newborn photography, safety is always my number one priority. I take great care to ensure that both the baby and the parents are comfortable and safe throughout the entire session. To start, I always consult with the parents beforehand to get an idea of any health concerns or medical conditions that the baby may have. This way, I can be sure to take any necessary precautions during the session.
Next, I always set up my studio space before the parents and baby arrive so that everything is ready and in its place. This is where that questionnaire comes in handy. I have all the props, outfits, and accessories ready before you arrive. This way, there is no need for anyone to be moving around too much once we get started.
I also make sure that all of my props and backdrops are clean and free of any potential hazards. Everything that I am using for the session is sanitized before your arrival and after I am done with your session. Finally, during the actual session, I am constantly monitoring both the baby and the parents, making sure everyone is happy and comfortable. If at any point either the baby or the parents seem uncomfortable or unhappy, I will stop the session immediately.
Tips for Parents to Prepare for Their Session
As a parent, you are probably both excited and nervous about your upcoming newborn session. As a newborn photographer that has had many years of photographing newborns, I know that planning for a photo shoot is not something you do daily. That is why I send you a very helpful guide when you book with me to help prepare you for your session. It walks you through the day before, the night before, and the day of.
Here are a few of those tips to help you prepare.
Choose the right time: Newborns are typically most sleepy and cooperative during their first two weeks of life. If possible, schedule your session during this time window.
Make sure baby is fed: A full tummy will help your little one feel comfortable and content during the session. We will start a full feed at the studio so we don't miss this step.
Dress baby in loose, comfortable clothing: Avoid anything that might constrict or irritate your newborn's sensitive skin.
Gather any props you'd like to use: If you have any special items that you'd like to incorporate into the photos (e.g., a blanket from grandma), please bring them along
Relax and enjoy the experience: Your baby can pick up on stress so the calmer you are, the calmer baby will be. This is a special time in your lives, so savor every moment!
As you can see, newborn photography is a very special experience that requires great attention and care. I have many years of experience in the field and am passionate about capturing the sweetest moments of your baby's life. From discussing why I photograph certain poses when I do to highlighting the other activities that occur during a newborn photography session – I am here to help guide you through and ensure every moment of your child's first days is remembered and saved for generations to come.