If you're expecting your second child and you didn't get professional newborn photos of your first, you may be wondering how to make up for lost time. In this article, I'll provide some tips on how to use a professional photographer to capture beautiful newborn photos of your new bundle of joy – even if you didn't do it the first time around!
As a newborn photographer for many years, I have had many conversations with parents that want to do newborn photos of their second child but missed getting them done with their first.  Many times they feel bad or guilty for not doing them with their first child, so they are hesitant to get them done for their second child.  While there is not a way to go back in time and take newborn photos of your first, there are ways to have a newborn session with your older child and still make them feel special and a big part of the newborn session experience. 
One thing that I do when families come to the studio that has missed out on newborn photos the first time around is, I make sure to start with sibling photos and really focus on getting that precious connection that the little ones share. These are the images that will be cherished as your children grow up and become adults themselves. I always start with sibling shots when families come in for a newborn session. It's important to capture the connection that the little ones share. I focus on getting a variety of shots, both posed and candid. I want to make sure that I capture the relationships between the siblings as well as the individual personalities of the older children. Maybe your older child has a specific way that she likes to kiss the nose of her baby sibling or maybe he giggles when he holds the baby. These are the images that you'll look back on and treasure for years to come.
There are many poses that I like to do to highlight the connection between your older child and newborn baby.  This is a time when the older sibling really feels special as they become a huge part of the session while getting photos taken as well.  Here are some precious examples of photos that I like to do to include your older child.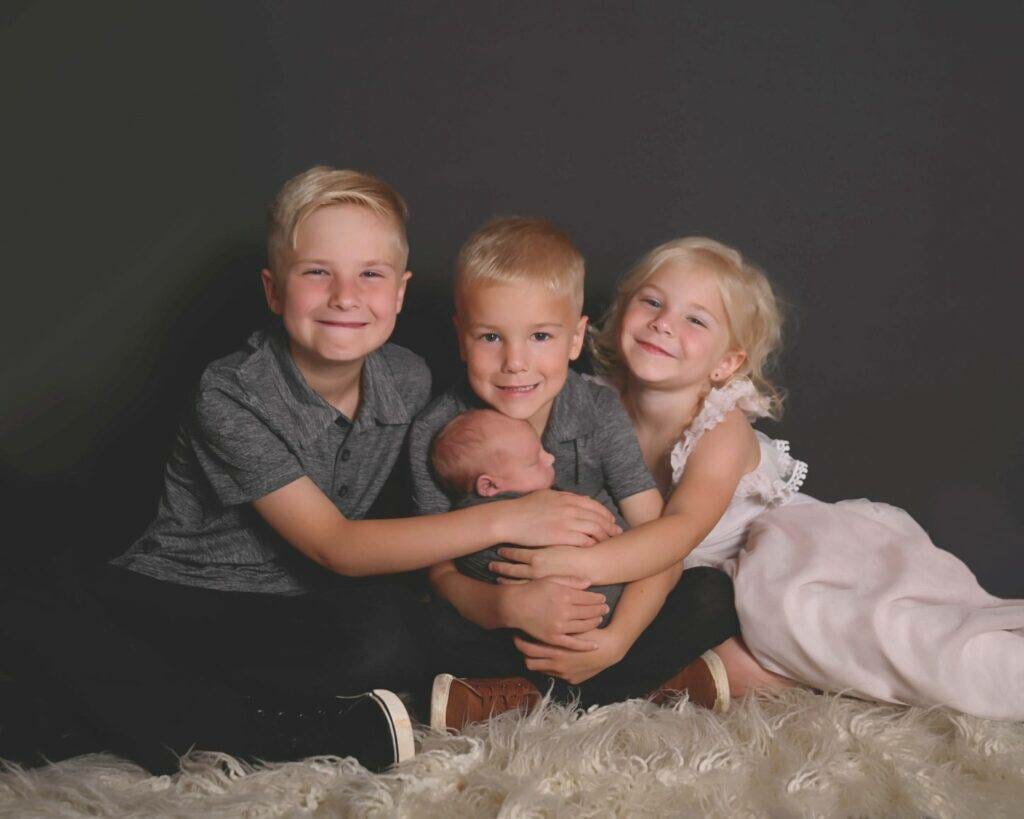 The classic cradle hold: Have your older sibling gently hold the newborn in their arms while they sit or stand. This is a sweet and simple pose that always looks lovely in photos.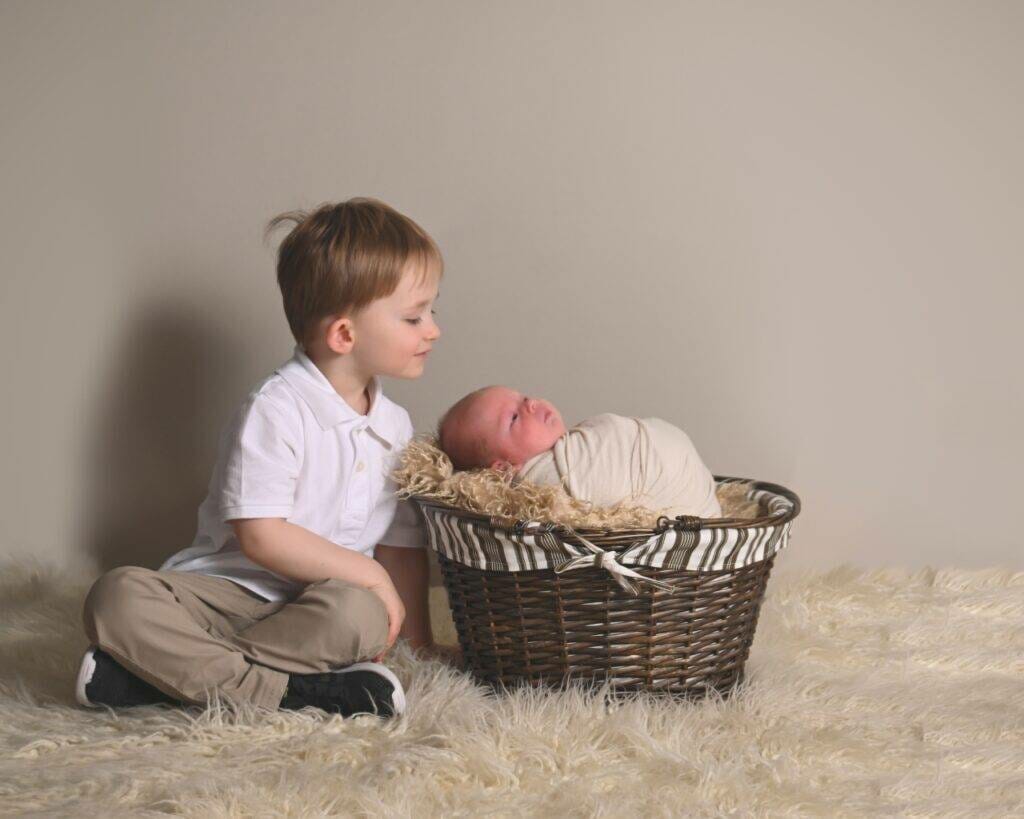 The proud parent pose: For this one, have your older child sit or stand next to the newborn's crib or bassinet. They can look down at their new brother or sister with pride (and maybe a few tears!) This makes for a beautiful and emotional photo.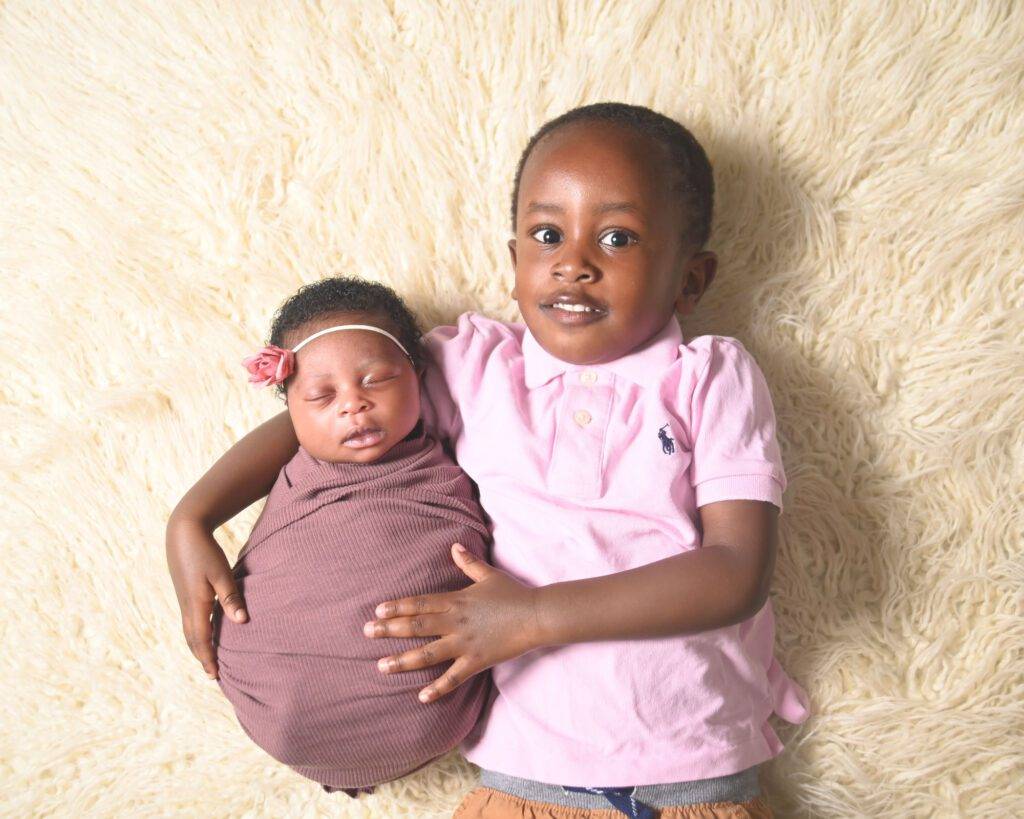 The layout down pose:  This is a pose where the older sibling lays on her back and looks up at the camera, while holding baby near her side, almost hugging her little baby brother.  This can be such a versatile pose because the older child can hug baby, hold bay, give baby a kiss on the head, and lay there cuddling with eyes closed.  This is one of my favorite poses to do.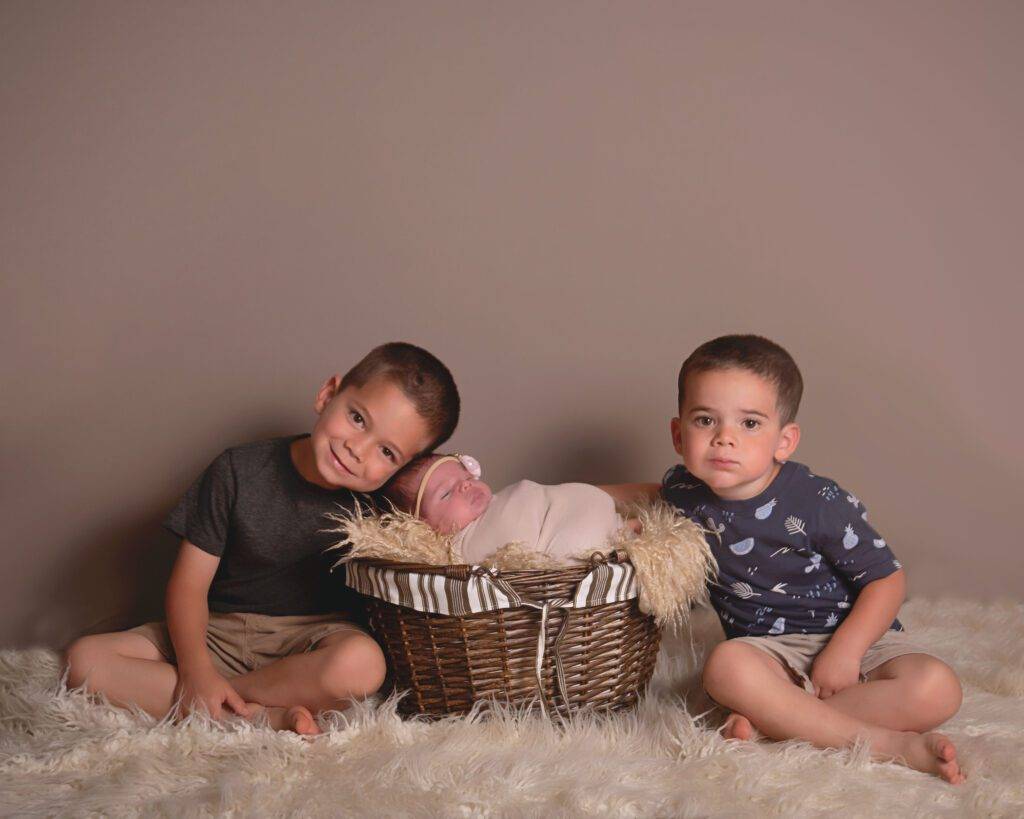 The basket pose: In this pose, the older child is sitting next to a basket with baby inside, either looking at baby, giving baby a kiss, or just holding the basket – almost like giving the basket a hug.   It is very cute!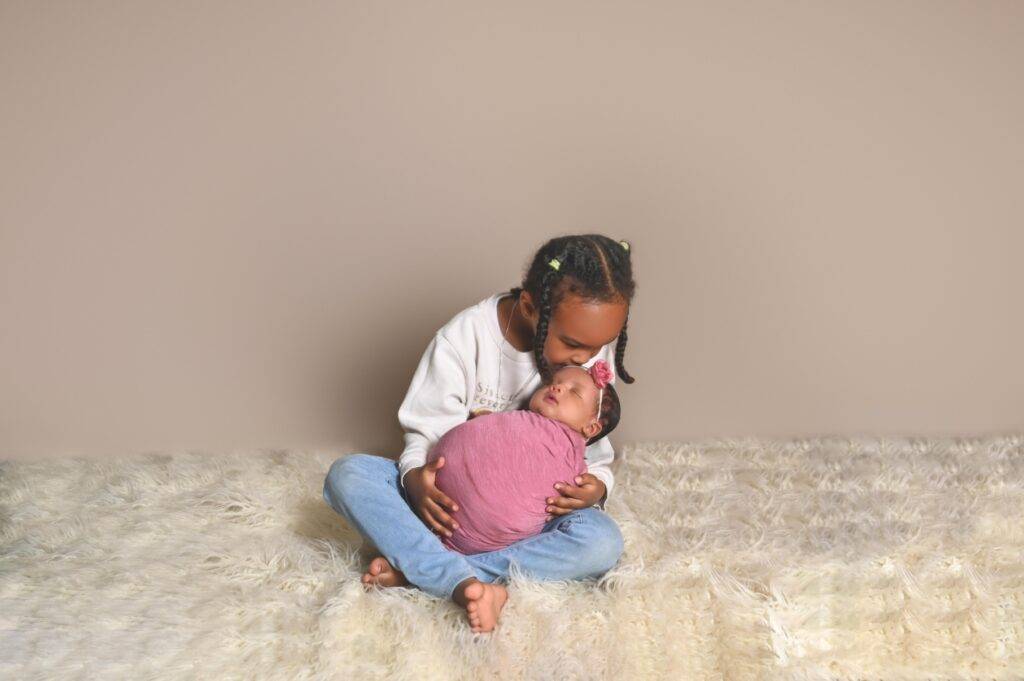 The chair pose:  I call it the chair pose because essentially, the older sibling acts like a big chair to support baby but is holding the baby and hugging her.  It may be called something else, but I like calling it the chair pose.  This pose usually needs a parent to help hold the baby behind the scenes and then I end up photoshopping the parent out.  Baby safety is always number one, even during sibling photos. The family photo: Of course, no newborn photo session would be complete without a family photo! 
If you didn't have professional newborn photos taken of your first child, it can be difficult to know how to do newborn photographs with your second and still make your first child feel included.   You don't want your first child to feel left out, but with a talented photographer and some creative ideas, you can create beautiful newborn photos while still making your first child feel like the star of the show.  By following these helpful tips above and finding a newborn photographer that knows how to include your sibling, you'll be able to capture beautiful newborn photos of your second child without feeling like you missed out on the experience the first time around. If you are interested in scheduling a newborn session to include your older child in the session, check out our newborn portfolio here and our collections here. I would love to see you at the studio!