Hey there, soon-to-be parents! Today, I'm excited to address a common concern that many parents have when considering a newborn photography session – photographing newborns past the 'Ideal' Age." As a master newborn photographer, I understand that life can be unpredictable, and sometimes scheduling a session within the first two weeks after birth isn't always possible. Fear not! I'm here to reassure you that even if your baby is past that "ideal" age, capturing beautiful and heartwarming images is still very much possible. Let's dive into some valuable insights and tips to ensure a successful photography experience for your older newborn.
First and foremost, I want to assure you that there is no need to stress or feel disappointed if your baby is past the two-week mark. While it's true that newborns within the first two weeks are typically sleepier and more flexible for those curled-up poses, older newborns have their unique charm and beauty. They've had a little more time to grow and develop, which means they might be more alert and showcasing their emerging personalities. As a Master Newborn Photographer, I have plenty of experience working with older newborns and can reassure you that you will still be able to get those sweet baby photos even though you aren't at the two-week mark.
Now that you know I am a Master Newborn Photographer, you might be wondering what exactly that means and why it matters. A Master Newborn Photographer is not just any photographer; they are professionals who have specialized in newborn photography. This dedication means I have invested my time and expertise in this specific field, gaining extensive knowledge and experience in capturing the unique beauty of newborns. Whether they are just a few days old or have surpassed the "ideal" age, my expertise allows me to understand the nuances of working with different age groups, selecting the best poses for various scenarios, and ensuring the safety of babies during the entire photography session. In recognition of my skills and expertise, I have also received acclaim from reputable photography associations, solidifying my position as an expert in the field of newborn photography.
When working with older newborns, one of the key considerations is to be patient and flexible with the session. Unlike younger newborns, older babies might not settle into those adorable curly poses as easily, and that's perfectly okay! As a master newborn photographer, I approach each session with a calm and relaxed demeanor, allowing the baby to dictate the pace. I give them the time they need to feel comfortable and secure, capturing their natural expressions and movements. Embracing their individuality often leads to heartwarming and authentic images that reflect their personality.
Another essential aspect to consider when photographing older newborns is to focus on capturing those heartwarming interactions and connections between you and your baby. As a newborn photographer with over 15 years of experience, I have an eye for moments of love, joy, and tenderness. These connections are really what special photos are all about and can create lasting memories that will warm your heart for years to come. Whether it's a gentle kiss on the forehead or a soft embrace, these intimate moments are just as precious as those adorable curled-up poses.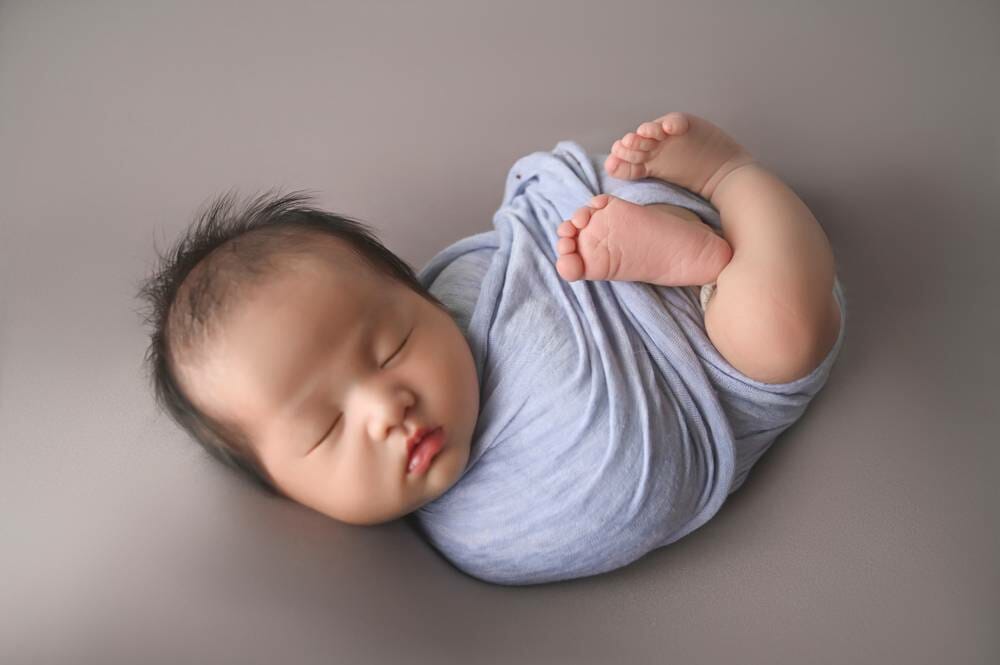 When working with older newborns, I also opt for a mix of wrapped and unwrapped poses. Wrapping your baby in soft, stretchy fabric can provide comfort and security, creating a peaceful and relaxed environment for the photography session. Wraps also allow for those cute snuggled-up shots, showcasing your baby's adorable features. On the other hand, capturing some unwrapped poses can highlight their growing curiosity and alertness, providing a beautiful balance to the overall gallery of images.
I have a curated collection of props and accessories that are suitable for older newborns. These props add interest and depth to the images, enhancing the storytelling aspect of the session. I'll guide you in selecting props that complement your baby's unique features and personalities, creating a personalized and heartwarming photography experience.
I recently had a session with a five-week-old baby girl who had the most captivating eyes and expressions. We started off with some wrapped poses, using soft pastel colors that complemented her delicate skin tone to create an atmosphere of coziness. As she grew more comfortable, we switched over to some unwrapped shots, highlighting her beautiful eyes and charming expressions. Her tiny hands gripping her parents' fingers told a story of incredible love and closeness. The final images were a delightful mix of snug wrapping and noteworthy curiosity, which perfectly captured her personality at that time.
When it comes to older newborns, I find that lifestyle photography can also be a beautiful option. Lifestyle sessions take place in the comfort of your own home, allowing for a more relaxed and natural atmosphere. These sessions focus on the genuine interactions and connections between your family, creating a collection of images that truly reflect your love and joy during this special time.
I was fortunate enough to photograph a family with a six-week-old baby boy.  Since he was a little on the older side, I opted to do a lifestyle session in my studio.  To capture this session, I documented the baby in a basket surrounded by his precious toys and plushy friends that his parents brought to the studio. His loving parents held him close to them, and I was sure to preserve those sweet moments of affection on camera. The family further enjoyed some cuddle time together on a couch – such an opportunity for me to capture their trilling joy and emotion. In the end, I was able to create a series of photos full of warmth that truly depict the fantastic bond between them.
Now, you might be wondering about the best time to schedule a newborn photography session for your older baby. While the first two weeks are considered the "ideal" window, older newborns can still be captured beautifully up to six weeks of age. It's essential to reach out and schedule your session as soon as possible to secure a spot on a photographer's calendar.
Photographing older newborns is an incredible opportunity to capture the beauty and uniqueness of your growing baby. As a master newborn photographer, I approach each session with a blend of expertise and creativity, ensuring a relaxed and enjoyable experience for both you and your baby. By embracing their individuality and focusing on those heartwarming connections, I create a gallery of images that tell your baby's unique story.
If you're considering booking a newborn photography session for your older baby, I encourage you to reach out and inquire about my services. Together, we'll create a personalized and heartwarming photography experience that you'll cherish for a lifetime. Your baby's journey is one worth celebrating, and I'm here to capture every precious moment of it. Don't hesitate to get in touch, and let's embark on this wonderful journey of newborn photography together.
So, if you're ready to create lasting memories and celebrate the beauty of your older newborn, reach out to me today! I can't wait to be a part of this special time in your family's life and capture those precious moments that will fill your heart with joy for years to come.