Dogs are our furry friends and often provide awesome companies for us and yes, they can prove to be great additions to the home because many species of dogs take a liking to kids and make up wonderful memories for them as they grow up. Asides the companionship they provide, you will agree that newborn photos are just cuter with this gorgeous animal in them.
So, we have decided to share tips on how to include dogs during your newborn photography session, simply because every family member deserves representation!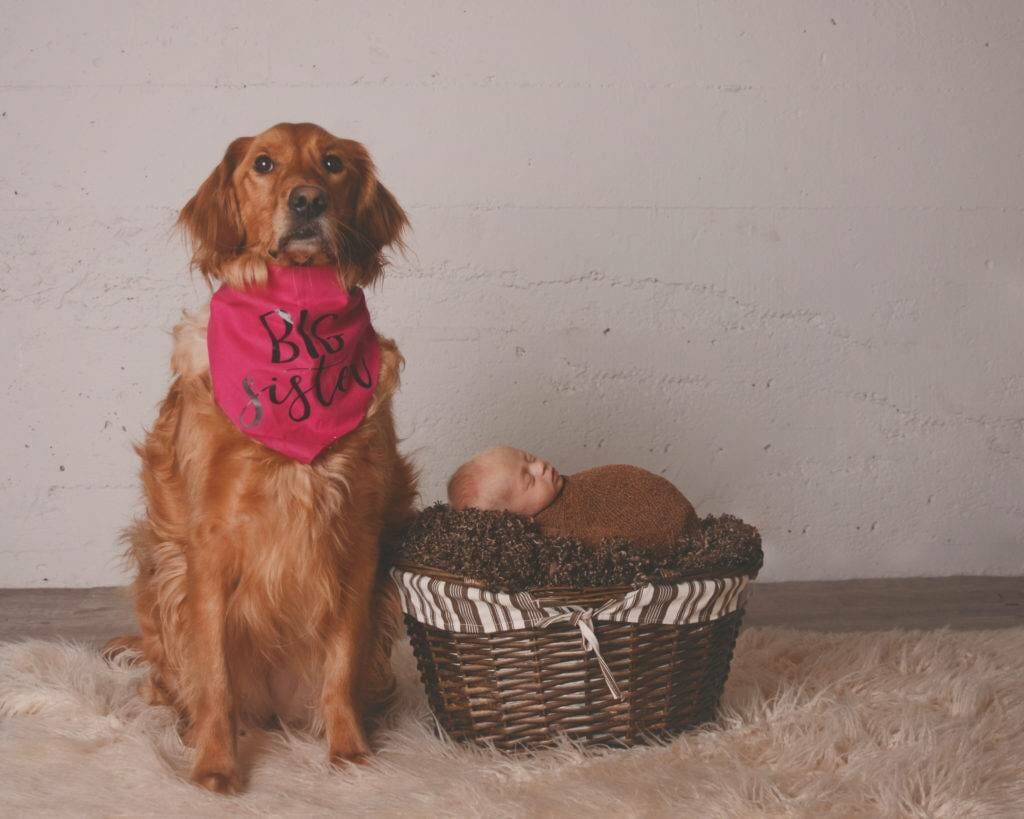 1. Prepare!
This is a very important place to start either as a photographer or as a parent. As a professional, you want to make sure you ask the right questions about the dog's training, temperament, and commands they listen to.
Get the dog's breed and be sure to read up on their behaviors and how to deal with them, you also want to know what the color of the dog's fur is so you can make appropriate preparations for background colors and props to use for your shoot. As a parent, you want to share your preferences for the shoot and make sure you equip your photographer with the appropriate details they require.
2. Help the dog acclimatize
Just like humans, dogs need to be shown around so that they can familiarize themselves with their surroundings. You should also let off steam before the shoot starts. Young energetic dogs can be quite a handful to work with so you want to help them blow some steam off before you get to the shoot.
3. Equip yourself with dog treats
Dogs love attention and can be quite a handful when they are excited. Featuring in a photoshoot can be quite exciting so, as they yap their tails in excitement and depending on how they respond to commands, you may need to equip yourself with treats that would make your job easier while creating more fun photos!
4. Safety, safety, safety!
Even though we would like a seamless shoot, things sometimes do not pan out as planned so, you want to make sure you have the requisite training that can help safeguard the baby, the animal, and you the photographer. Make sure you observe the mood of the dog before brining baby and animal together.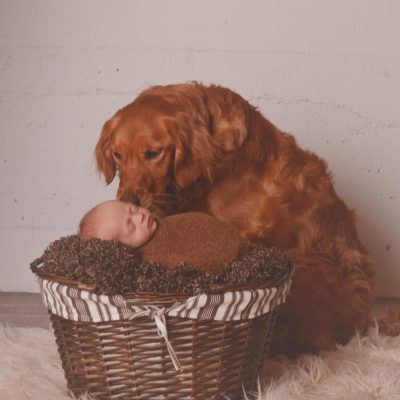 Including pets like dogs in shoots often create a memorable experience for you and your newborn, helping you capture an experience you can look at fondly.  If you are interested in including your furbaby in your newborn session, we would be excited to work with you.  Contact us to set up your own addorable newborn session.