Documenting your child's first year is a cherished way to remember all the amazing changes that occur in that short amount of time. If you're a new parent, or even a grandparent, you might be wondering how to go about capturing these memories in photos. This article provides advice and tips on how to plan for and take beautiful photos of your baby during their first year!
Why document your baby's first year?
There are so many reasons to document your baby's first year! First and foremost, it is such a special time that goes by so quickly. It is amazing how much they change and grow in just 12 short months. Capturing these milestones is a way to freeze time and remember all the details of this precious time.
Another reason to document your baby's first year is to create a legacy for your family. These images will be cherished by you and your loved ones for generations to come. They will be a tangible reminder of this special time in your life.
Lastly, documenting your baby's first year is a great way to celebrate all their accomplishments! From their first smile, to their first steps, each milestone is worth commemorating. A professional photographer can help you capture these moments in a beautiful and artistic way.
When to schedule newborn, 3 month, 6 month, 9 month, and year sessions
One of the most important things you can do for your baby is document their first year with professional photos. It goes by so fast and you want to make sure you have beautiful images to remember this time by. So when should you schedule your newborn, 3 month, 6 month, 9 month, and year sessions?
Ideally, you want to schedule your newborn session within the first 2 weeks after baby is born. This is when they are still very sleepy and curl up naturally in those cute poses. For 3 month sessions, it's best to schedule around baby's 3-4 month mark. They are more alert by then but can still be propped up or held in cute positions. The 6 and 9 month sessions are great for when baby can sit up on their own but aren't yet mobile. And finally, the one year session is perfect for when baby is standing and maybe even taking a few steps.
Of course, these are just guidelines and every baby is different. But if you follow these general guidelines, you'll be sure to get beautiful photos of your little one at each stage!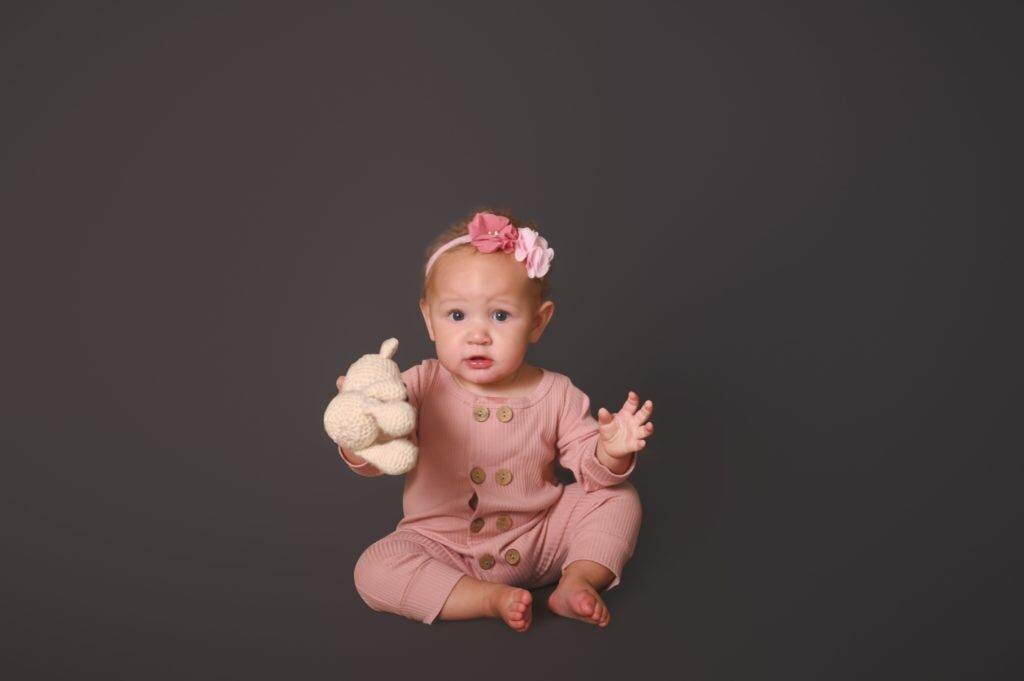 Tips for a successful milestone session
1. Pick the right photographer: When it comes to milestone sessions, you want to make sure you pick a photographer that you feel comfortable with. You will be spending a lot of time with them during the session, so it's important to choose someone you feel relaxed around.
2. Plan ahead: Before the session, take some time to think about what kind of shots you would like. What are your must-have shots? What are your wants? This will help the photographer know what to focus on and capture during the session.
3. Be prepared: Make sure you have everything you need for the session ahead of time. This includes things like clothes, props, and any other items you might need. The last thing you want is to be scrambling around during the session trying to find something. Ask the photographer if you should bring clothes are will they be providing clothes and props.  My studio is a full services studio that offers clothing and props for each session so clients only need to bring baby. 
4. Relax and have fun: One of the most important things to remember is to relax and have fun! This is a special time for you and your family, so enjoy it. The more relaxed you are, the better the photos will turn out.
Creative ways to display your photos
One way to display your photos is to create a photo collage. You can use an online service or app, or you can do it yourself using a basic editing program like Photoshop. There are also many sites that offer free printable templates. Another option is to create a photo book. Many online photo printing services offer tools to help you create custom photo books. You can also find software that will help you design a photo book from scratch.
If you're looking for something more creative, you can try making a DIY frame using scrapbook paper and some simple crafting supplies. Or, if you're feeling really ambitious, you could try your hand at making a photomontage. This is a technique where you combine multiple photos into one image, often using an overlay or masking effect. It can be a great way to tell a story with your photos, or to create a unique piece of art.
The importance of printed photographs
As a parent, you know how quickly your baby grows and changes. One day they're tiny and new, and the next they're sitting up or taking their first steps. It's amazing how fast they change, and it can be hard to keep up. That's why capturing your baby's milestones in photographs is so important.
Sure, you can take pictures with your phone or camera, but there's something special about having professional, printed photographs to look back on. They're tangible evidence of how tiny your baby once was, and they'll help you remember all the precious details as they grow up too fast.
If you're not sure where to start, book a newborn session with a professional photographer. They can help you capture all those early details before they're gone. And then plan to schedule sessions throughout your baby's first year to document each milestone. You'll be so glad you did!
Photography is such an important part of documenting your baby's first year, and we hope this guide has given you some helpful tips on planning a newborn session as well as how to capture those important milestones throughout the first year. We offer several Grow with me Packages as well as a full year package.  If you have any questions or would like to book a session with us, please don't hesitate to contact us!