Capturing the beauty of your newborn baby and their family has never been more important. To make sure you get the best possible photos, it's important to know what to wear for family photos during your newborn portrait session. In this article, we'll discuss what outfits work best for the entire family so that you can capture those moments forever!
Choosing Clothing
It can be difficult to decide what to wear for a newborn portrait session. You want to look good in the photos, but you also want to be comfortable. Here are a few tips to help you choose the right clothing:
-Wear clothes that fit well and are not too tight. You don't want your clothes to be so tight that they leave marks on your skin.
-Choose colors that compliment your skin tone. Avoid wearing clothes that are the same color as your skin, as this can make you look washed out in photos.
-Wear layers if you're chilly. A loose cardigan or scarf can add some warmth without making you too hot.
-Avoid patterns and logos. Solid colors usually photograph best. If you do choose to wear a patterned shirt, make sure it's not too busy or loud.
-Don't forget about accessories! A simple necklace or pair of earrings can add some personality to your outfit.
– Wear clothes that don't wrinkle easily.
– Avoid clothes with words on them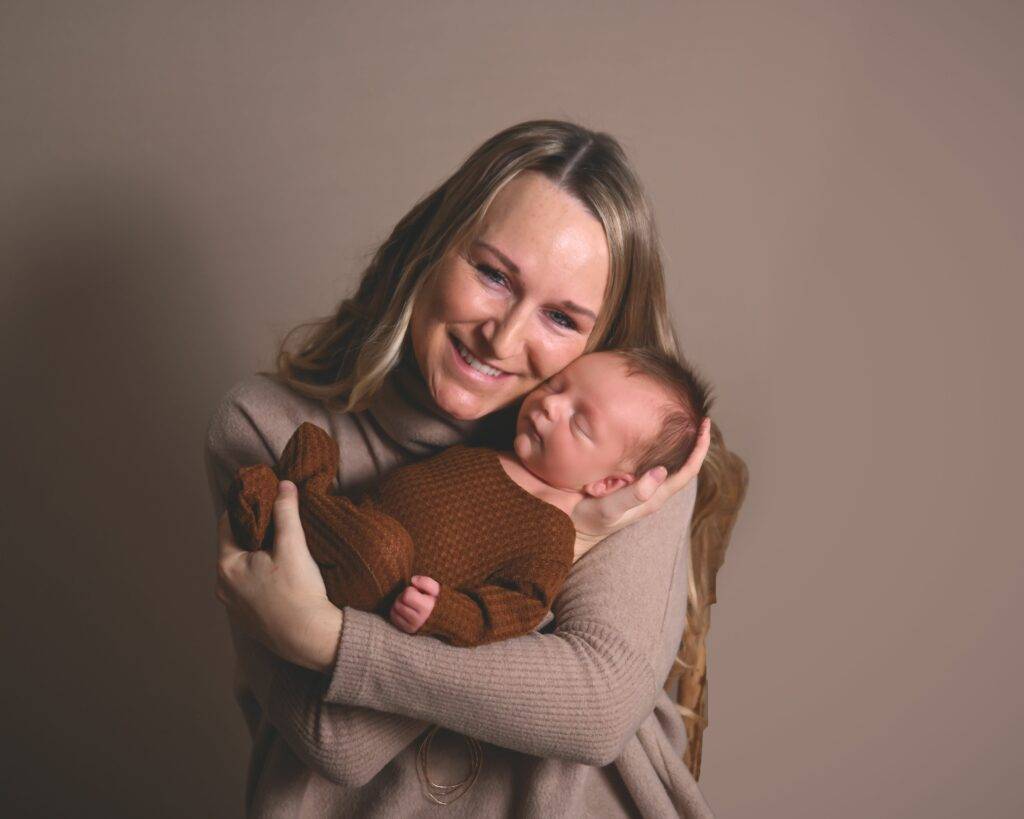 What to Wear on the Day of Your Newborn Portrait Session
First and foremost, avoid anything that will be distracting in the photos. This means no busy patterns or bright colors or words. You want the focus to be on your new baby, not your clothes.
Stick to solids and simple shapes in neutral colors like cream, white, grey, and black. Layers always add interest to photos, so don't be afraid to mix and match different tops and bottoms. Just make sure everything coordinates well together.
If you're breastfeeding, consider wearing a nursing tank top under a cardigan or jacket. This way you can easily nurse your baby without having to strip down entirely.
For men, a button-down shirt or sweater with jeans or khakis is always a good choice. Avoid t-shirts since they can be too casual. And make sure your clothing fits well—you don't want any baggy clothes swallowing you up in the photos!
Personal Style
Your personal style will dictate what you wear for your family photos during a newborn portrait session. If you are someone who loves to dress up, then you might choose to wear a flowing dress or skirt with a blouse. If you prefer a more casual look, then you might opt for jeans and a cute top. Whatever you decide to wear, make sure that you are comfortable in it so that you can relax and enjoy the experience.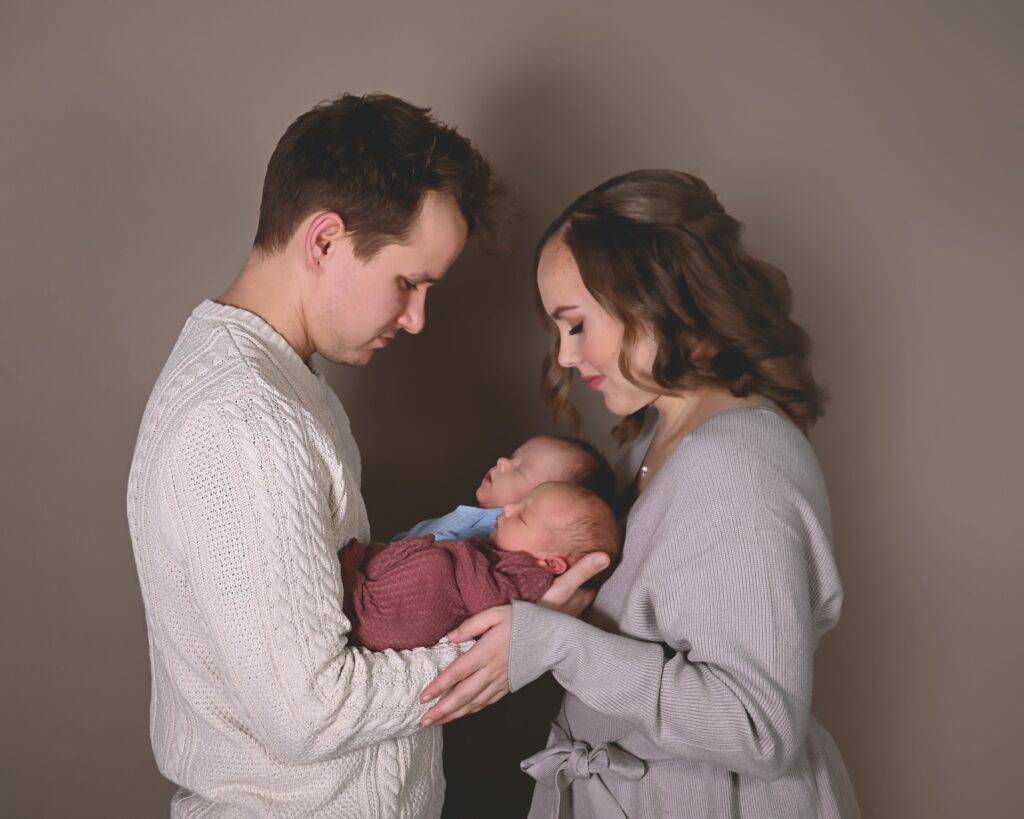 What colors should we choose
Choosing colors for your newborn portrait session can be a difficult task. You want to choose colors that will compliment your baby's skin tone and look good in the photos. Here are some tips to help you choose the perfect colors for your newborn session:
If you are unsure of what colors to choose, white is always a good option. White looks great in photos and goes with everything.
If you want your photos to have a softer look, pastel colors are a good choice. Pastels are also great if you want to add a pop of color to your photos.
I tend to use soft, naturally occurring colors such as stone grey, khaki, cream, beige, dusty rose, forest green ect. Naturally occurring colors tend to compliment skin tones best and become a part of the overall photo as opposed to a distraction from the subject, in this case, your baby.
Whatever colors you choose for your newborn session, make sure they complement your baby's skin tone and you will be sure to love the results!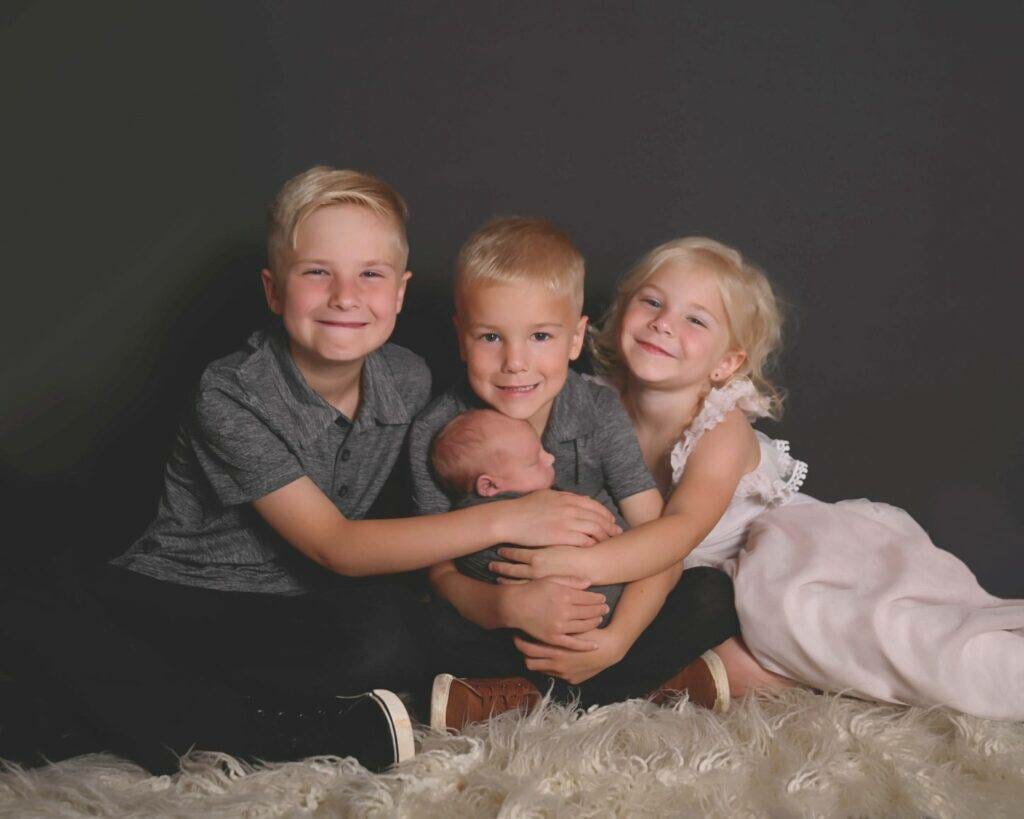 What should older sibling be dressed in for sibling photos?
Older siblings can wear whatever outfit coordinates well with the baby's clothes and the background/location of the photo shoot. If the baby is wearing a white onesie, for example, avoid having the older sibling wear an outfit with a lot of white in it as well. You want each child to stand out in the photo.
Solid colors tend to photograph best, but if your child has a favorite patterned outfit, that can work too! Just be sure the patterns aren't too busy or they will detract from the focus of the photo—the new baby.
As for shoes, I usually photograph sibling photos barefoot so we don't get distracted by dirty shoes in the photos.
Overall, the important thing is to make sure both kids look good in the photos—coordinating their outfits well is key!
Dressing for family photos during a newborn portrait session can seem daunting but it doesn't have to be. With careful planning and thoughtfulness when selecting outfits, your family will look stunning in the photos! It's important to avoid overly-matching looks, coordinating colors that flatter each other is key. Be mindful of accessories and props that could distract from the focus on your precious little one. Don't forget to add some personality with special jewelry or a fun print! To sum up, choosing the right wardrobe for your newborn photo session should not cause any stress – just pick something comfortable and timeless so you can enjoy this moment captured forever.