Hello, beautiful mothers-to-be! As a photographer specializing in capturing the beauty of pregnancy, I understand how important it is to find the right maternity photographer for your photoshoot. Whether you have already scheduled a session with my studio or are in the process of searching for a photographer, this guide will help you ask the right questions and make an informed decision. Your maternity photo shoot is a once-in-a-lifetime experience, and it's crucial to choose a photographer who can understand and capture your vision. Let's dive into the key questions you should ask when selecting your maternity photographer.
How would you describe your style of photography?
Understanding a photographer's style is essential as it sets the tone and aesthetic of your images. Some photographers specialize in capturing candid and natural moments, while others have a more artistic or editorial approach. Take the time to browse through their portfolio to see if their style aligns with your vision. Ask yourself if their images evoke the emotions and ambiance you desire for your maternity photos. It is best to find a photographer whose style you like, rather than asking a photographer to change their style for your shoot.
Have you photographed maternity sessions before?
Maternity photography requires a unique understanding of the pregnant form and the ability to make expectant mothers feel comfortable and beautiful. Inquire about the photographer's experience specifically in capturing maternity sessions. Ask to see samples of their previous maternity work to get an idea of their expertise in this area. Experience in posing, lighting, and capturing the glow of pregnancy is crucial for creating stunning and meaningful images.
How do you pose and direct during a photo shoot?
Feeling at ease and confident during your maternity photoshoot is vital for capturing authentic and stunning images. Ask your prospective photographer about their approach to posing and directing during the session. Do they provide guidance on how to pose naturally and comfortably? A skilled photographer will know how to highlight your baby bump and enhance your natural beauty while ensuring you feel relaxed and at ease throughout the shoot.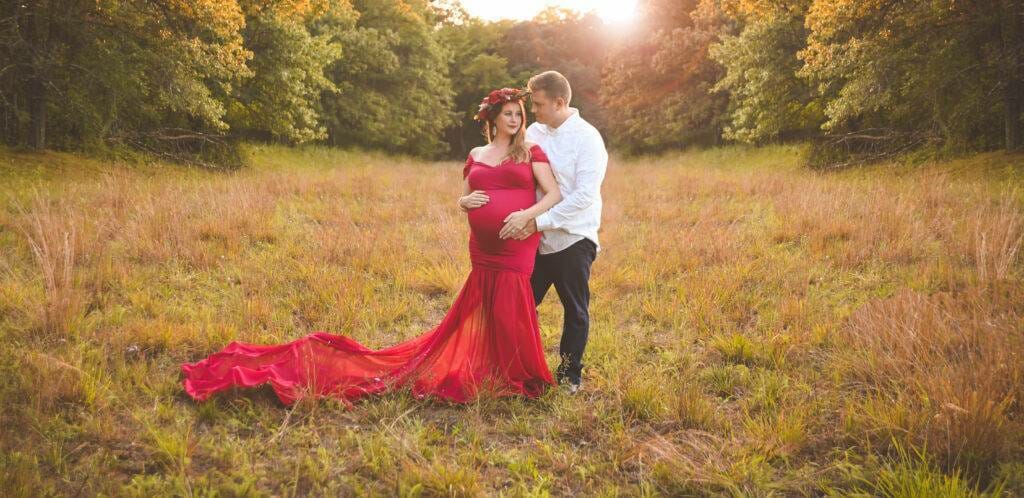 Would you be able to accommodate my vision and ideas for the photoshoot?
Your maternity photos should reflect your unique personality and tell your story. Inquire whether the photographer is open to incorporating your ideas and vision into the session. Share any specific concepts or themes you have in mind and ask if they are willing to collaborate and bring your ideas to life. A photographer who values your input and can adapt their style to your preferences will ensure a more personalized and meaningful experience.  I always say don't be afraid to ask this question.  While a photographer usually won't change their style, they should be able to accommodate your ideas while still using their style to achieve similar results. 
What is included in your packages and pricing?
Discussing the photographer's packages and pricing is crucial to ensure you have a clear understanding of what you will receive and what to expect in terms of investment. Inquire about the number of edited images you will receive, the format in which they will be delivered, and any additional products or services offered. Understanding the pricing structure will help you make an informed decision based on your budget and the value you place on the photographs.
Do you have any safety measures in place?
Safety is of utmost importance during your maternity photoshoot, particularly if you have scheduled it during the current health climate. Inquire about the photographer's safety protocols and measures to ensure a safe and comfortable experience. This may include sanitization practices, social distancing, and any other precautions they have implemented to prioritize your well-being.
How long does it take you to deliver the final images?
Knowing the photographer's turnaround time for delivering the final images is essential for managing your expectations. Ask about their typical timeframe for editing and delivering the photographs. Understanding this will help you plan for sharing and enjoying your images once they are ready.
Would you be able to provide references or testimonials from clients?
Asking for references or client testimonials can provide valuable insights into the photographer's professionalism, work ethic, and ability to meet client expectations. Hearing about other clients' experiences can help you gauge the photographer's reliability, communication skills, and overall satisfaction.
Cancellation and rescheduling policies?
Life happens, and circumstances may arise that require you to cancel or reschedule your maternity photoshoot. It's important to understand the photographer's policy regarding cancellations and rescheduling. Ask about any fees or deadlines associated with making changes to your scheduled session. 
Is there going to be a contract outlining the terms and conditions?
A contract is essential for clarifying expectations, outlining the services to be provided, and protecting both parties involved. Inquire whether the photographer utilizes a contract and ask for a thorough explanation of its terms and conditions. Review the contract carefully and ensure you feel comfortable with its contents before proceeding. Make sure to ask any questions that you may have regarding the contract.  I always say it is better to ask than to sign something you are not sure about. 
Are there any additional products or services you offer?
Some photographers may offer additional services or products to enhance your maternity photoshoot experience. This could include options like professional hair and makeup, custom albums, or prints. Inquire about any extras the photographer offers and determine if they align with your desires for the shoot. At my studio, in several packages, I offer hair and makeup, or milestones such as belly-to-baby collections or watch-me-grow collections.  Those can be found here.
How do you edit photos?
Editing plays a significant role in the final look of your maternity photographs. Ask the photographer about their editing process and how they handle retouching. Do they enhance natural beauty while maintaining a realistic appearance? It's essential to understand the photographer's editing style and ensure it aligns with your preferences.
When should I book my maternity photoshoot?
Timing is crucial when it comes to booking a maternity photoshoot, especially if you have a preferred photographer in mind. Ask about their availability and the recommended timeframe for booking to secure your desired session date.
Would you be able to provide guidance on choosing a location?
Choosing the right location for your maternity shoot can greatly impact the overall feel and aesthetic of your photographs. Inquire whether the photographer offers guidance or suggestions for selecting the perfect location. Their experience and knowledge can help you find a setting that aligns with your vision.
When unforeseen circumstances arise, such as bad weather, how do you handle them?
Mother Nature can be unpredictable, and inclement weather may affect your scheduled photoshoot. Discuss with the photographer how they handle unforeseen circumstances. Do they have alternative locations or backup plans in case of rain or other adverse weather conditions? Here at my studio, if there is bad weather in the forecast, we can either pull the session in my studio, reschedule to a better day or find a location that is not in studio that will allow for us to photograph at. 
Choosing the right maternity photographer is a crucial step in ensuring a memorable and beautiful maternity photoshoot. By asking the right questions and having open and honest communication, you can find a photographer who understands your vision, makes you feel comfortable, and captures the essence of your pregnancy journey.  Asking these questions will help you gain a deeper understanding of the photographer's expertise, style, and approach. Remember, this is your moment to shine, and I am here to guide you every step of the way.